RELATIONSHIP BETWEEN THE MEATABOLIC SYNDROME AND THE INDIVIDUAL METABOLIC RISCK FACTORS AND SYMPTOMATIC AND ASYMPTOMATIC CAROTID ARTERY DISEASE: IS THE WHOLE LARGER THAN ITS PARTS
Tatjana Deleva Stoshevska

Department of Neurology, General City Hospital "8-mi Septemvri" Skopje, Faculty of Medicine, Ss Cyril and Methodius University in Skopje, R.North Macedonia

Sofija Nikoloska

University Clinic of Ear, Nose and Throat, Skopje, R.North Macedonia

Bojan Stoshevski

University Clinic of Pulmonology and Allergology Skopje, R.North Macedonia

Marko Nikoloski

University surgery hospital Sv.Naum Ohridski Skopje, R.North Macedonia

Dimitar Veljanovski

Department of Radiology, General City Hospital "8-mi Septemvri" Skopje, R.North Macedonia5
Abstract
Metabolic syndrome (MetS) is a group of at least three of the following metabolic risk factors : central obesity, elevated glycaemia, high serum triglycerides, low serum high-density lipoprotein (HDL), and high blood pressure. Atherosclerosis is the most common cause of extracranial CAD. It may be asymptomatic and symptomatic with clinical presentation of cerebrovascular insult (CVI) and transient ischemic attack (TIA).  Aim: to determine the relationship between MetS as a whole compared to individual metabolic risk factors and CAD. This analytical unicentric cross-sectional study included 160 subjects divided into two groups: 80 subjects with MetS according to the National Cholesterol Education Program Adult Treatment Panel III (NCEP ATP III) criteria in the examined group (EG) and 80 subjects who have 1 or 2 individual metabolic risk factors and do not meet the diagnostic criteria for MetS in the control group (CG). CAD was diagnosed with the Esaote My Lab70 HVG device, with a linear probe (7.5 MHz), according to the Ultrasound consensus criteria for CAD of the Association of Radiologists (2002, San Francisco).  CAD was significantly more frequently diagnosed in 77 (96.25%) EG subjects, compared to 34 (42.5%) CG subjects (p <0.0001). In EG symptomatic CAD had 52 subjects (67.5%) compared to only 2 (5.9%) subjects in CG. With asymptomatic CAD were 25 (32.47%) EG and 32 (94.12%) CG subjects, which was statistically confirmed as significant (p <0.0001).  MetS is significantly associated with CAD, which is of cardinal importance for primary and secondary prevention of CVI and TIA.
Keywords: metabolic syndrome, carotid artery disease, cerebrovascular insult, transient ischemic attack
https://doi.org/10.55302/JMS21421113ds
References
1. Eckel RH, Grundy SM, Zimmet PZ. The metabolic syndrome. Lancet 2005; 365: 1415 - 1428. Aquilante C.L,
Vande Griend J.P. Metabolic Syndrome. Available at:
https://www.accp.com/docs/bookstore/psap/p6b11sample03.pdf. Accessed: 25 May 2021.
2. Haffner S, Taegtmeyer II. Epidemic obesity and the metabolic syndrome. Circulation 2003; 108: 1541 - 1545.
3. Reaven GM. Banting lecture 1988: role of insulin resistance in human disease. Diabetes 1988; 37: 1595 – 1607
4. Bonora E. The metabolic syndrome and cardiovascular disease. Ann Med. 2006;38(1):64-80.
5. Grundy SM. Pre-diabetes, metabolic syndrome, and cardiovascular risk. J Am Coll Cardiol. 2012;59(7):635-643.
6. Glass CK, Witztum JL. Atherosclerosis: the road ahead. Cell. 2001;104:503–516
7. Libby P. Inflammation in atherosclerosis. Nature. 2002;420:868 –74.
8. Kahn R, Buse J, Ferrannini E, Stern M. American Diabetes Association; European Association for the Study of
Diabetes. The metabolic syndrome: time for a critical appraisal: joint statement from the American Diabetes
Association and the European Association for the Study of Diabetes. Diabetes Care. 2005;28:2289 –2304.
9. Cuspidi C, Sala C, Tadic M, Gherbesi E, Grassi G, Mancia G. Association of metabolic syndrome with carotid
thickening and plaque in the general population: A meta-analysis. J Clin Hypertens (Greenwich). 2018;20(1):4-
10.
10. Scuteri A, Najjar SS, Muller DC, Andres R, Hougaku H, Metter JE et al. Metabolic syndrome amplifies the age-
associated increases in vascular thickness and stiffness. J Am Coll Cardiol 2004;43(8):1388-1395.
11. Xuelong Li, Xianliang Li, Hualiang Lin, Xian Fu, Wanrong Lin, Mingkun Li, Xianfan Zeng, Qingchun Gao.
Metabolic syndrome and stroke: A meta-analysis of prospective cohort studies. J Clin Neurosci. 2017;40:34-
38.
12. Kawamoto R, Tomita H, Inoue A, Ohtsuka N, Kamitani A. Metabolic Syndrome may be a Risk Factor for Early
Carotid Atherosclerosis in Women but not in Men. J Atheroscler Thromb. 2007; 14: 36-43.
13. Iglseder B, Cip P, M Alaimare L, Ladurner G, Paulweber B. The Metabolic Syndrome Is a Stronger Risk Factor
for Early Carotid Atherosclerosis in Women Than inMen. Stroke. 2005; 36: 1212-1217. Poulsen P, Vaag A, Kyvik
K, Beck-Nielsen H. Genetic versus environmental aetiology of the metabolic syndrome among male and
female twins. Diabetologia 2001;44:537-543.
14. Bots ML, Grobbee DE. Intima media thickness as a surrogate marker for generalised atherosclerosis.
Cardiovasc Drugs Ther. 2002;16(4):341-351.
15. Hulthe J, Bokemark L, Wikstrand J, Fagerberg B. The metabolic syndrome, LDL particle size, and
atherosclerosis: the Atherosclerosis and Insulin Resistance (AIR) study. Arterioscler Thromb Vasc Biol
2000;20(9):2140- 2147.
16. McNeill AM, Rosamond WD, Girman CJ et al. Prevalence of coronary heart disease and carotid arterial
thickening in patients with the metabolic syndrome (The ARIC Study). Am J Cardiol 2004;94(10):1249-1254.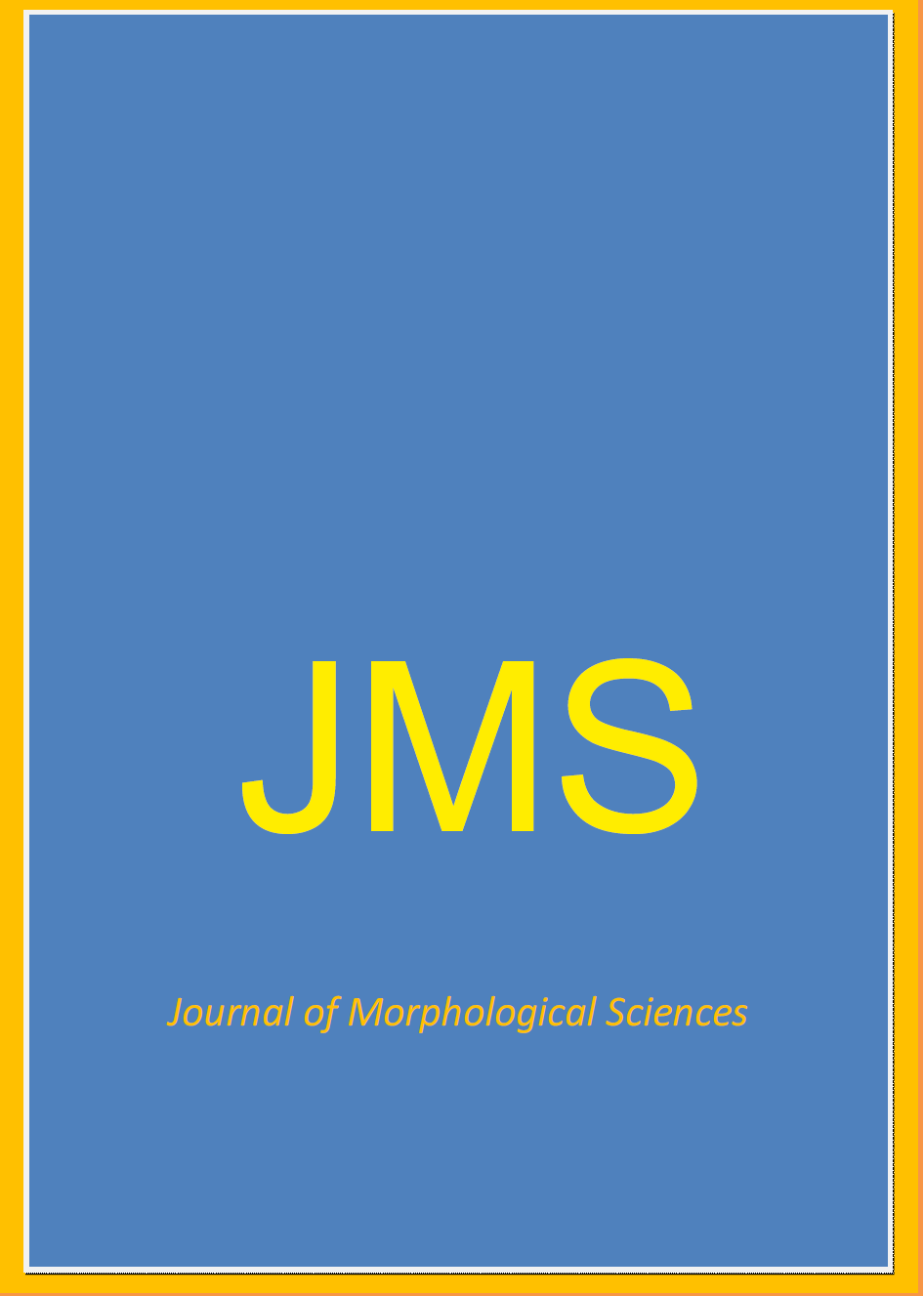 How to Cite
DELEVA STOSHEVSKA, Tatjana et al. RELATIONSHIP BETWEEN THE MEATABOLIC SYNDROME AND THE INDIVIDUAL METABOLIC RISCK FACTORS AND SYMPTOMATIC AND ASYMPTOMATIC CAROTID ARTERY DISEASE: IS THE WHOLE LARGER THAN ITS PARTS.
Journal of Morphological Sciences
, [S.l.], v. 4, n. 2, p. 113-121, july 2021. ISSN 2545-4706. Available at: <
https://jms.mk/jms/article/view/vol4no2-15
>. Date accessed: 25 sep. 2023.