NUTRACKER SYNDROME
Elena Peneva

University Institute of Radiology - Skopje, R. North Macedonia

Elizabeta Stojovska Jovanovska

University Institute of Radiology, Faculty of Medicine, University Ss.Cyril and Methodius in Skopje, R.North Macedonia

Darinka Lapevska Maksudova

General Hospital, Strumica, R. North Macedonia

Mitko Ilievski

University Institute of Radiology, Faculty of Medicine, Ss.Cyril and Methodius University in Skopje, R. North Macedonia

Maja Jakimovska Dimitrovska

University Institute of Radiology, Faculty of Medicine, Ss.Cyril and Methodius University in Skopje, R. North Macedonia

Ace Dodevski

Institute of Anatomy, Faculty of Medicine, Ss Cyril and Methodius University in Skopje, R.North Macedonia
Abstract
In the nutcracker anatomy, the aortomesenteric angle is more acute, which leads to a compression of the left renal vein between the aorta and the superior mesenteric artery. As a result, there is an impended outflow of the left renal vein in the inferior vena cava. This is termed as nutcracker syndrome.  Complex of clinical symptoms exists in the nutcracker syndrome (NS). Nutcracker phenomenon (NP) is the term used to describe an anatomic finding without any clinical symptoms. The aim of this case study was to show the use of a multiphase computed tomography as a diagnostic method of choice in dealing with cases of nutcracker anatomy in patients. We present four cases of patients who underwent computed tomography of the abdomen. Two of the cases were with anterior nutcracker syndrome, one case was with posterior nutcracker syndrome and one case with nutcracker phenomenon. Establishing of the exact diagnosis in these patients is difficult, because of the rarity and variety in symptoms. Existence of the clinical symptoms distinguishes whether the patient has NS or NP. Multiphase CT scan of the abdomen with additional reconstructions in maximum intensity projection (MIP), volume rendering (VR) and multiplanar reconstruction (MPR) as an imaging method is the method of choice in the diagnosis of NS and NP.
Keywords: nutcracker syndrome, nutcracker phenomenon, computed tomography, anatomic variations
References
1. Ahmed K. Sampath R. Khan M.S. Current Trends in the Diagnosis and Management of Renal Nutcracker
Syndrome: A Review European Journal of Vascular and Endovascular Surgery Volume 31, Issue 4, April 2006,
Pages 410-416 doi.org/10.1016/j.ejvs.2005.05.045.
2. Gulleroglu K. Gulleroglu B. and Baskin E. Nutcracker syndrome World J Nephrol. 2014 Nov 6; 3(4): 277–281.
doi: 10.5527/wjn.v3.i4.277.
3. Kurklinsky A.K. MD, MACP and Rooke T.W. MD Nutcracker Phenomenon and Nutcracker Syndrome Mayo
Clin Proc. 2010 Jun; 85(6): 552–559 doi: 10.4065/mcp.2009.0586
4. Ananthana K. Onidab S. Daviesb A.H., Nutcracker Syndrome: An Update on Current Diagnostic Criteria and
Management Guidelines European Journal of Vascular and Endovascular Surgery Volume 53, Issue 6, June
2017, Pages 886-894, doi.org/10.1016/j.ejvs.2017.02.015.
5. Velasquez C. A. Saeyeldin A. Zafar M.A. Brownstein A. J. Erben Y. A systematic review on management of
nutcracker syndrome, J Vasc Surg Venous Lymphat Disord .2018 Mar;6(2):271-278.
doi: 10.1016/j.jvsv.2017.11.005
6. Thompson P.N. MD, Darling III R.C. MD, Chang B.B. MD, Shah D.M. MD, Leather R.P.MD, A case of
nutcracker syndrome: Treatment by mesoaortic transposition Journal of vascular Surgery Volume 16, ISSUE
4, P663-665, October 01, 1992doi.org/10.1016/0741-5214(92)90176-9
7. Pardinhas C. Carmo C. Gomes C.Escada L.Alves R. Nutcracker Syndrome: A Single-Center Experience, Case
Rep Nephrol Dial 2021;11:48–54, doi.org/10.1159/000512589
8. Berthelot J.M. Douane F. Maugars Y. Frampas E. Nutcracker syndrome: A rare cause of left flank pain that
can also manifest as unexplained pelvic pain, Joint Bone Spine. 2017 Oct;84(5):557-562. doi:
10.1016/j.jbspin.2016.10.006.
9. Waseem M. Upadhyay R. Prosper G.The nutcracker syndrome: an underrecognized cause of hematuria, Eur
J Pediatr. 2012 Aug;171(8):1269-71.doi: 10.1007/s00431-012-1761-1.
10. Inal M. Daphan B.U. and Bilgili M.Y.K. Superior Mesenteric Artery Syndrome Accompanying With Nutcracker
Syndrome: A Case Report Iran Red Crescent Med J. 2014 Oct; 16(10): e14755. doi: 10.5812/ircmj.14755.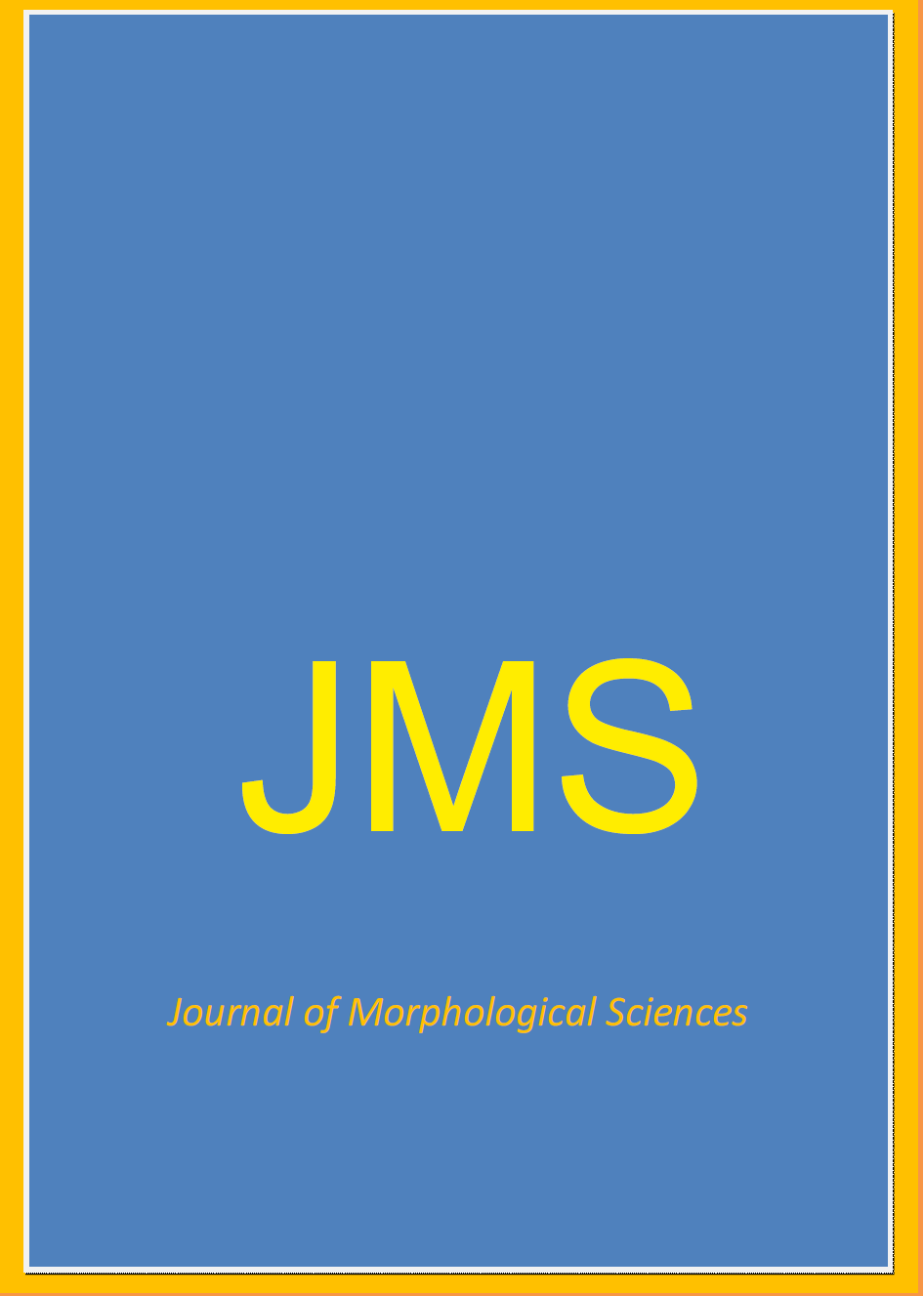 How to Cite
PENEVA, Elena et al. NUTRACKER SYNDROME.
Journal of Morphological Sciences
, [S.l.], v. 4, n. 2, p. 47-53, july 2021. ISSN 2545-4706. Available at: <
https://jms.mk/jms/article/view/vol4no2-6
>. Date accessed: 17 aug. 2022.