HISTOPATHOLOGICAL CHANGES OF THE ENDOMETRIUM IN PATIENTS WITH ABNORMAL UTERINE BLEEDING AND ASSOCIATION WITH SOME RISK FACTORS
Ana Kocevska

Special hospital for gynecology and obstetrics "Mother Theresa" Chair – Skopje, Faculty of Medicine, Ss Cyril and Methodius University in Skopje, R. North Macedonia

Dimce Zafirov

Institute of Preclinical and Clinical Pharmacology and Toxicology, Faculty of Medicine, Ss Cyril and Methodius University in Skopje, R. North Macedonia

Gordana Petrusevska

Institute of Pathology, Faculty of Medicne, Ss Cyril and Methodius University in Skopje, R. North Macedonia

Kristina Skeparovska

Special hospital for gynecology and obstetrics "Mother Theresa" Chair – Skopje, Faculty of Medicine, Ss. Cyril and Methodius University in Skopje, R. North Macedonia

Slavica Subeska Stratrova

University Clinic of Endocrinology, Diabetes and Metabolic Dysorders, Faculty of Medicine, Ss Cyril and Methodius University in Skopje, R. North Macedonia
Abstract
Abnormal uterine bleeding is a complex gynecological problem, especially in the perimenopausal and postmenopausal period. Etiology may be organic (endometrial polyp, hyperplasia, myoma, endometrial atrophy, carcinoma) or non-organic (dysfunctional uterine bleeding). To analyze the histopathological findings of samples of fractionated explorative curettage in patients with abnormal uterine bleeding and to investigate certain risk factors for their occurrence (age, obesity, hypertension, diabetes). This was a prospective study comprising a total of 104 subjects. They were divided into two groups: 54 women in postmenopausal age and 50 in premenopausal age. The data were collected by interviewing and analyzing the findings from histopathological analyses of samples obtained by fractional explorative curettage. The following anamnestic data were analyzed: age, history of hypertension and diabetes. The study was performed in the Special Hospital for Gynecology and Obstetrics "Mother Theresa" - Chair. The most common pathological finding in both groups was endometrial polyp (in 39.5% of postmenopausal and 46.9% of premenopausal women). In 4 participants (5.7% of the total), endometrial adenocarcinoma was diagnosed. The mean age of patients was 57 years in the postmenopausal group and 43 years in the premenopausal group. The average BMI (Body Mass Index) was 33 in the postmenopausal group and 25 in the premenopausal group. Hypertension was detected in 64.8% of postmenopausal women and in 34% of premenopausal women. 13% of postmenopausal women were diagnosed with diabetes. It was detected in 12% of premenopausal women. Fractional explorative curettage is an important diagnostic procedure for prompt and timely diagnosis of premalignant and malignant changes of the female genital tract. We detected endometrial adenocarcinoma in 7,4% of the postmenopausal patients and in 4% of premenopausal patients with abnormal uterine bleeding. It is especially important to highlight obesity and hypertension as risk factors for abnormal uterine bleeding and endometrial pathology.
Key words: abnormal bleeding, uterus, fractional explorative curettage
References
1. Munro MG, Critchley HO, Broder MS, et al. FIGO classification system (PALM-COEIN) for causes of abnormal
uterine bleeding in nongravid women of reproductive age. Int J Gynaecol Obstet. 2011; 113, 3-13.
2. Albers JR, Hull SK, Wesley RM. Abnormal uterine bleeding. Am Fam Physician. 2004;69(8):1915-26.
3. Sweet MG, Schmidt-Dalton TA, Weiss PM, Madsen KP. Evaluation and management of abnormal uterine
bleeding in premenopausal women. Am Fam Physician. 2012;85(1):35- 43
4. Heller DS. Pathologic basis for abnormal uterine bleeding with organic uterine pathologies. Menopause.
2011;18(4):412-5.
5. Mazur MT, Kurman RJ. Normal endometrium and infertility evaluation. In: Mazur MT, Kurman RJ, editors.
Diagnosis of endometrial biopsies and curettings: A practical approach. 2nd ed. New York: Springer Verlag;
2005. P. 7-33.
6. Salim S, Won H, Nesbitt-Hawes E, et al. Diagnosis and management of endometrial polyps: a critical review of
the literature. J Minim Invasive Gynecol. 2011; 18, 569-81.
7. Li XC, Song WJ. Endometrial intraepithelial neoplasia (EIN) in endometrial biopsy specimens categorized by
the 1994 World Health Organization classification for endometrial hyperplasia. Asian Pac J Cancer Prev. 2013;
14, 5935-9.
8. Dreisler E, Stampe Sorensen S, Ibsen PH, Lose G. Prevalence of endometrial polyps and abnormal uterine
bleeding in a Danish population aged 20-74 years. Ultrasound Obstet Gynecol 2009;49:229-33.
9. Lieng M, Istre O, Qvigstad E. Treatment of endometrial polyps: a systematic review. Acta Obstet Gynecol
Scand 2010;89:992-1002.
10. Acmaz G, Aksoy H, Albayrak E, et al. Evaluation of endometrial precancerous lesions in postmenopausal
obese women – a high risk group?. Asian Pac J Cancer Prev 2014;15(1). 195-198.
11. Lacey JV Jr, Sherman ME, Rush BB, et al. Absolute risk of endometrial carcinoma during 20-year follow-up
among women with endometrial hyperplasia. J Clin Oncol 2010;28, 788-92
12. International Agency for Research on Cancer. World Cancer Report. World Health Organization. Chapter
5.12., 2014.
13. General Information About Endometrial Cancer. National Cancer Institute
https://www.cancer.gov/types/uterine/patient/endometrial-treatment-pdq#section/all?redirect=true
(23.09.2020)
14. Nappi L, Indracollo I. Are diabetes, hypertension and obesity independent risk factors for endometrial
polyps. J Minim Invasive Gynecol 2009; 16(2): 157-162.
15. Giordano G, Gnetti L, Merisio C, Melpignano M. Postmenopausal status, hypertension and obesity as risk
factors for malignant transformation in endometrial polyps. Maturitas 2007;56: 190-197.
16. Zhang ZH, Su PY, Hao JH, Sun YH. The role of preexisting diabetes mellitus on incidence and mortality of
endometrial cancer: a meta analysis of prospective cohort studies. Int J Gynecol Cancer 2013;23(2): 294-303.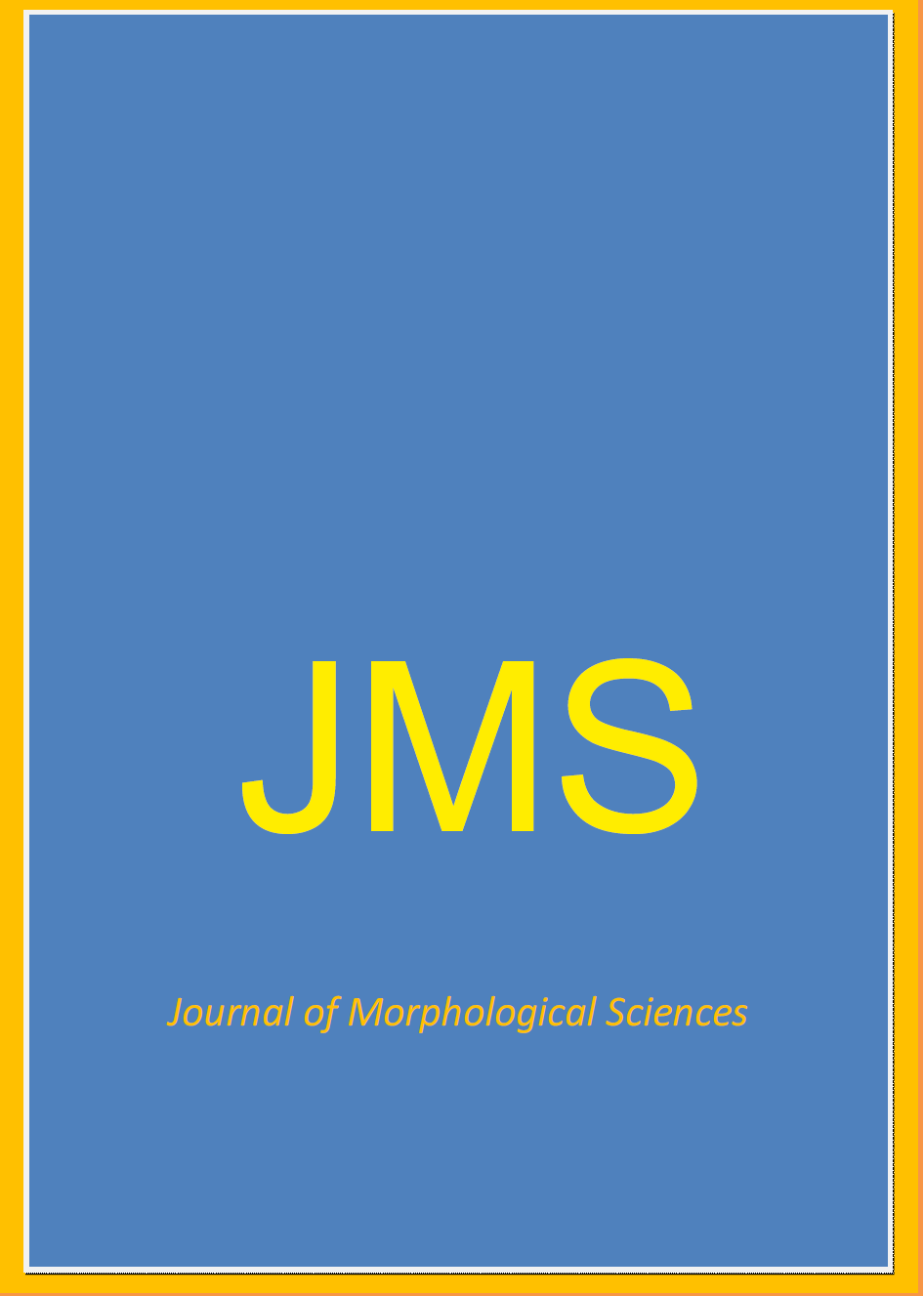 How to Cite
KOCEVSKA, Ana et al. HISTOPATHOLOGICAL CHANGES OF THE ENDOMETRIUM IN PATIENTS WITH ABNORMAL UTERINE BLEEDING AND ASSOCIATION WITH SOME RISK FACTORS.
Journal of Morphological Sciences
, [S.l.], v. 4, n. 2, p. 66-71, july 2021. ISSN 2545-4706. Available at: <
https://jms.mk/jms/article/view/vol4no2-9
>. Date accessed: 17 aug. 2022.